It
should be NO shock by now that I love fashion and anything vintage!
Some one I look up to is a model named Pattie Boyd!
Some know her as
Mrs.

George

Harrison
[lucky girl!]
, one magazine refers to her as "a living doll",
but one thing is forsure.

In the 1960s and 70s Pattie Boyd was a

MUSE


"
Something
in
her style
that shows

me

"

-
Pattie Boyd married the "quiet" Beatle George Harrison after two years of dating, for both it was

love

at first sight, in fact George proposed to her on the set of "A Hard Days Night", the
first day
they met!...everyone now...AWUH!
For the Beatles last album "Abbey Rd." George wrote his most successful song . "Something" is known as one of the greatest love songof all time, that Frank Sinatra pointed out, never actually says the word "LOVE". This song was of course about Pattie.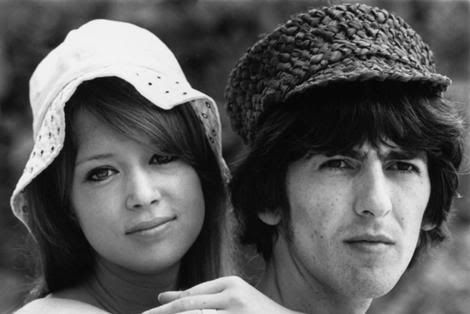 "Layla"
"Like a fool I fell in love with you"
Eric Clapton had done the unthinkable! He fell in love with his best friends wife but worse of all...A BEATLES WIFE! Clapton made no secret of his obsession with Pattie, writing her love letters, poems, and sending her gifts. Pattie thought this to be innocent flirtation until Eric finally said it.... 'Leave George and move in with me'. After 8 turbulent years married to George (read her book "Wonderful Tonight" to hear the entire story)
Pattie considered but then resisted.
UNTIL.....Eric Clapton wrote "Layla" for..guess who?!
To know really why Pattie became a hero of mine, and why I named my blog after her "Muse"

read her book

,. She was an

icon

in the sixties, and admit it girls!, you'd love to have thoes love songs written about you!
fa.SH.un
Pattie is a fashion goddess simply because she pulled off every look with grace and confidance!
If she had a 'mantra' I think it would be "Color,Color and more COLOR!"
~lets play! ~

"
Boyd-ism"To get that girly
MOD fashion
style remember
, color
,
color
,
color
Peace, Love, and shimmies